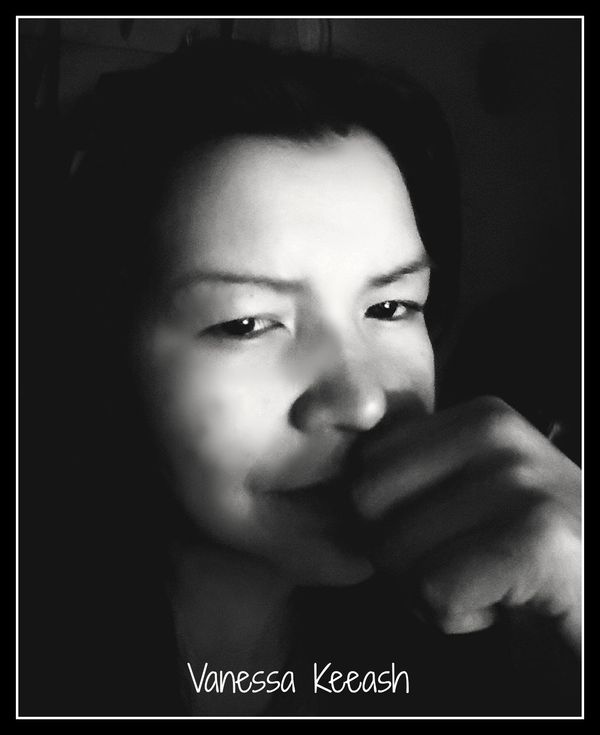 Vanessa Keeash was born in Sioux Lookout, Ontario in 1984.
Vanessa was raised, throughout most of her childhood, on a remote farm land near Stratton,Ontario. Even though supplies were harder to come by, and there were no formal classes near her, that did not stop Vanessa from drawing and painting. Her preferred medium has always been pencil and paint.
As a young child attending grade school, Vanessa entered many artwork competitions. Her work gained her many 1st place awards. One of the most prestigious awards she won as a young girl, was a 1st place win for a peace poster she created for a province-wide competition while attending Sturgeon Creek Public School.
As a student in Rainy River High School, Vanessa was given many opportunities to display her work. At the age of 14, Vanessa had the opportunity to display her work for the Lieutenant governor of Ontario, The Honourable James Bartleman. Vanessa completed a painting for the honorable lieutenant, and presented it to him on his visit.
Along with displaying her work, Vanessa also took part in a workshop series at International Falls, Minnesota, along with other students. The art created during this workshop was published in a book called "Ojibway Tales".
After leaving high school in 2002, Vanessa attended Georgian College in Barrie, Ontario where she studied Fine Arts.
In June 2017, Vanessa was commissioned, by singer Jacqueline Lovely Perras, to create an original painting for the cover of the Warrior of Truth vinyl release. Jacqueline loved the painting so much, that she used it for the rear cover of the CD's. The Vinyl edition of the album is set to be released in spring 2018. 
Today, Vanessa is a proud mother of 2 children, living with her family in Atikokan, Ontario and still produces artwork, both commissioned and for her personal pleasure.